In Best Luxury Dog Houses: A Comprehensive Buying Guide we've reviewed 5 of the best luxury dog houses on the market. Choosing the right dog house is essential for your furry friend's comfort and safety.
You dog needs a place to sleep and hide away when you're not home and a luxurious dog house that will make them feel like a king or queen. Whether you're looking for something small and simple, or a fancy doghouse that is just downright stylish, you can read about them here. Read on to learn more about each type of dog house and how to choose the right one for your pet.
Luxury Dog Houses At A Glance
Why You Should Get A Luxury Dog House
A luxury dog house is a perfect option if you're looking for a special type of doghouse that offers your pup quality accommodations and style.
These houses come in all shapes and sizes, making them ideal for most dogs.
They often include superior ventilation so your pup stays cool in the summer and warm in the winter, and they often have a porch or patio to enjoy the fresh air.
What to Look for When Buying A Luxury Dog House
When buying a dog house, it's important to consider a few key features.
For one, a dog house should be designed to keep your pet warm during cold weather.
Also, make sure to find a dog house that fits your furry friend's size and shape. If you have a small breed, you don't necessarily need an extra large dog house. However, if you have large dogs like Great Danes, then it makes sense to look at extra-large dog houses.
The materials used should also be durable and easy to clean, so you don't have to keep fretting about your pet's safety.
Waterproof dog houses help keep your dog dry.
The roof of a dog house is important for keeping your pet comfortable in all types of weather. Asphalt, plywood, and even a shingled roof are a few examples of the types of roofs you kind find.
Plus, it's always nice to have a dog house with a door that opens and closes, so your pet can get in and out easily.
---
Luxury Dog House Product Reviews
1. DAWNSPACES
(Best For Multiple Dogs)
Features:
Colors: Grey or Yellow
Two Rooms
Materials:
Raised Floor
Removable Floor
Door Flaps
Openable Roof
Two Windows
Best for Small and Medium Pets Under 70 lbs
1-Year Guarantee
Specs:
Overall Dimensions: 62.4″ x 53.3″ x 38″ inches
Door Dimensions: 12.8″ W x 18.5″ H
Height of House From The Ground: 3.7″
Weight Capacity: 70 lbs
Pros
Raised Floor
Multiple Dogs
Guarantee
A Few Words
Dawnspaces is here with a dog house for multiple dogs that is both stylish and functional. It is made from premium materials like durable fir wood and weatherproof asphalt roofing.
This elevated pet shelter has a porch deck, two rooms, an elevated floor, removable flooring, two windows, door flaps, and an openable roof.
This elevated pet shelter is perfect for small and medium dogs under 70 lbs.
Two colors are available, grey and yellow.
Dawnpaces comes with a 1-year guarantee.
---
2. Cabin Style Dog House
(Best Cabin Style)
Features:
Handmade
Material:
Asphalt Roof 
Window
Raised Floor
Suitable For Dogs Up To 53 lbs
Assembly Required
Specs:
Overall Dimensions: 50″ W x 44″ D x 43″ H
Main House Dimensions: 46.5″ W x 29.5″ D x 40.75″ H
Door Dimensions: 15.75″ W x 21.5″ H
Window Dimensions: 11.5″ W x 7.75″ H
Porch Dimensions: 48.75″ L x 15.5″ W
Height of main house from the ground: 1.25″
Weight Capacity: 176 lbs (Main Living Room), 110 lbs (Porch)
A Few Words
This wooden Cabin Style Raised dog house is made from durable and weather-resistant wood and comes with a porch for your dog to enjoy the fresh air and a window so they can see outside.
The roof is made of asphalt, which is weather-resistant for light weather protection.
The raised floor helps keep moisture out and helps keep your dogs away from insects so your dog can rest comfortably.
---
3. The Ultimate Cedar Dog House
(Best Guarantee)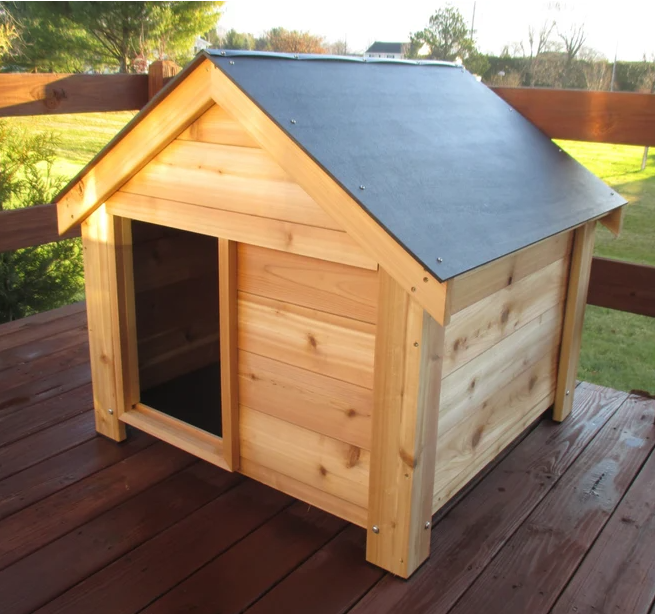 Features:
Handmade
Materials:

All Natural Untreated Wood
Western Red Cedar
Rot Resistant Wood
HDPE UV Resistant
Stainless Steel Hardware

Offset Door
Roof Guarantee: 15 years
Warranty: 5 years
30-Day Return Policy
Estimated Assembly Time: 30 Minutes
Specs:
Overall Dimensions: 40" (W) x 40" (L) x 37" (H)
House Dimensions: 36" (L) x 36" (L) x 35″ (H)
Door Inside Dimensions: 13″ (W) x 18″ (H)
Product Weight: 94 lbs
Pros
Western Red Cedar Wood
5-year Warranty
15-year Roof Guarantee
A Few Words
Infinite Cedar, based in Maine, USA, has created this well-built, stylish cedar dog house.
Made of high-quality, all-natural Western Red Cedar and rot-resistant wood finished with stainless steel hardware, the Ultimate Cedar Dog House is designed to last. Plus, the offset door makes for easy access.
This dog house has no flimsiness to it. A 1/4″ overlap on the cedar deck boards ensures a tight weather seal, and the walls are built of 1″ thick Cedar.
With a roof guarantee of 15 years and a warranty of 5 years, you can be sure that this dog house will provide your dog with years of worry-free use.
It is estimated to take you only 30 minutes to assemble.
---
4. Modern Dog House Mid Century Ranch
(Best Mid-Century Style)
Features
Handmade to Order
Materials:
Roof:

Expressed Beams and Eaves With Cedar Shingles

Planter Box
Window
Typical Build Time: 6 Weeks
No Returns, Exchanges, Cancellations
Specs:
Dimensions: Approx 44″ (W) x 72″ (L)
Pros
Handmade
No Assembly – Ships in 1 Piece
Artificial Turf
Cons
6 Weeks To Build – But Being Handmade It's Also A Reasonable Amount of Time
No Returns
A Few Words
The Modern Dog House Mid Century Ranch is made from natural wood, artificial turf and comes with expressed beams and eaves with a shingled roof. Your dog can stay cool as the low-pitched roof and eaves provide passive ventilation.
A window allows a place for your pup to look out as well as providing ventilation.
A custom planter box is installed beneath the extended eaves that allow channel water to runoff watering the plantings, which serves as an aesthetic element for the owner.
The deck, covered with artificial grass, extends inside where your dog can rest comfortably out of the elements of the weather. At the same time, he can also take advantage of the sun while relaxing on the external portion of the deck.
As there are no returns, cancellations, or exchanges, be sure, that this is the dog house for your and your furry friend.
The typical build time is six weeks.
---
5. Beam House-Eichler Inspired
(Best Modern Style)
Features
Handmade
Mid-Century Modern Architecture
Planter Box
Materials:

Wood
Artificial Turf
Elastomeric Coating

Typical Build Time: 6 Weeks
No Returns, Exchanges, Cancellations
Specs:
Dimensions: 44" (W) x 90" (L) x 60" (H)
Pros
Handmade
Elastomeric Coating
Artificial Turf
Cons
6 Weeks To Build – But Being Handmade It's Also A Reasonable Amount of Time
A Few Words
The Modern Dog House by Beam House-Eichler Inspired is a handcrafted dog house that evokes the look and feel of mid-century modern architecture. The design of Joseph Eichler homes is popular in Southern California, including Palm Springs and Orange County.
Exhibited are clean lines of a low-slung pitched roof and vertical wood siding.
The broad eaves allow for a shaded interior while providing your dog with a shaded area to stay cool.
The deep eaves provide for a shaded interior and give your pup a place away from direct sunlight to help him stay cooler.
The roof is made from exposed wood beams and tongue and groove boards. The wood is covered with a waterproof elastomeric coating.
The custom planter box can be used to grow plants and add a touch of nature to your pet's home.
The deck is covered with durable, stylish artificial turf, adding to your pup's comfort. At the same time, the window allows your dog to keep his eyes on activity outside his dog house.
Building this designer-quality house takes approximately six weeks, and there are no returns, exchanges, or cancellations.
---
FAQs for Luxury Dog Houses
How do you choose the best dog house for your pet?
Choosing the right dog house is a big decision – but it's one that you'll be glad you made once you've found the perfect one.
Some popular options include kennels, doghouses, and outdoor homes.
Choosing the right one for your dog's lifestyle and size is important. For example, a kennel is perfect for dogs that spend a lot of time indoors, while an outdoor home is perfect for those that love spending time outdoors.
Be sure to consider your dog's needs and choose one that will make him comfortable in his own home.
What are the best dog houses for dogs with allergies?
The American Academy of Allergy, Asthma, and Immunology (AAAAI) has released tips for choosing the best dog house for dogs with allergies.
The AAAAI recommends selecting a dog house that is made of manufacturer-certified materials, such as low-pile carpet or vinyl, has tight-fitting built-in ventilation slots and an airtight seal, and meets all other major pet housing guidelines.
---
POPULAR ARTICLES
You May Be Interested In: Calming Dog Beds
---
Conclusion
So this concludes our list of some of the best Luxury Dog Houses on the market today. In this article, we highlighted the features of five different luxury dog houses and explained how to choose the perfect one for your pet.
By providing this information, we hope to help our readers find the perfect solution for their pet's needs while keeping in mind their budget.
With all products, features can change, so be sure the qualities that attract you to the product are still the same before purchasing.
As always, if you have any questions or suggestions about this blog, please feel free to let us know in the comments below!