As a dog owner, we know how important it is to have a bag to travel with your furry friend. But finding the best bag for your pup can be tricky – especially if you're unsure what to look for. That's why we've put together Best Dog Travel Bags guide – to help you choose the best dog travel bag for your needs.
In this guide, we've outlined the key factors to consider when shopping for a bag, as well as our top 6 picks for the best bags for dogs to travel. So whether you're just starting out on your dog travel journey or looking for an upgrade, make sure to check out this guide!
Dog Travel Bags – At A Glance
Why You Should Get A Travel Bag For Your Dog
When you pack for traveling with your dog, you want to ensure they have all the pet supplies they need. That is where a dog travel bag comes in handy, and you can think of it as a dog organizer bag.
Having everything in one place and neatly organized will make traveling with your pet more pleasant than haphazardly throwing things in the car and hoping you remember everything.
Travel Bags aren't only for vacations; you can use them for hiking, camping, doggy daycare, the park, and the uses go on.
For more information about traveling with dogs, see: The Ultimate Guide To Traveling With Dogs
What to Look for When Buying A Travel Bag
Everyone has different preferences on what is important or not when deciding on a travel bag, but I want to offer my opinion on some of the most important things that a travel bag should have.
Durability and Water Resistance
If you're traveling with your dog, you need to be prepared for wet weather conditions. A travel bag that can handle different types of weather conditions is essential. Water-resistant linings will help protect the contents from water damage.
Storage Compartments
You want to look at the size of the bag's compartments. Most dog travel bags have storage compartments, but are they large enough to carry all the essentials to make your pet comfortable?
The reverse is also true – are there too many compartments that they make most of the bag unusable.
Keep in mind that a large breed dog will likely need more storage than a small dog – just in dog food alone.
Accessories
Does the bag come with collapsible dog bowls, containers, and other accessories? Accessories can make a difference in the value of the bag.
If you also plan on having a suitcase, you'll want the bag able to attach easily. If not, it can become challenging to jostle the bag around, especially when traveling long distances.
Size
One of the most important factors to consider when buying a dog travel bag is its size. The bag should be big enough to fit your pet's belongings, including dog food and water. But also not too large that it becomes cumbersome.
Ease of Care
It's important to keep the bag clean during trips, and ease of care will come into play. Some bags come with removable inserts that make cleaning easy, and others are machine-washable on a delicate cycle.
Value
When choosing the right dog travel bag, there are many options. Whether you're looking for something small and affordable or something high-end and durable – look for value before purchasing.
---
Dog Travel Bag Product Reviews
Our top seven picks take different needs and preferences into account and are available in different sizes and colors to suit any dog. We also reviewed each bag extensively to give you all the information you need to make an informed decision.
1. BAGLHER (Best Backpack)
Features:
Backpack
Airline Approved
Colors: 12 Available
Material: Heavy-duty Polyester
Shoulder Strap: Adjustable
2 Small Collapsible Silicone Bowls
Food: 2 Independent Containers
Holds approximately 12-14 cups
Front Pocket
Opens For Feeding Pad
Side Mesh Pocket
Trash Bag Dispenser
Specs:
Dimensions: L13″x W7″x H16″
Pros
Airline-Approved
Heavy-duty Polyester
Variety of Colors
A Few Words
The BAGLHER is a leading dog travel bag brand. Meeting most airline carry on requirements, you can bring the bag with you when flying, so you have all of your pup's necessities nearby.
Included are a shoulder strap, food and water containers, a side mesh pocket, a trash bag dispenser, and a front pocket that opens up to accommodate a feeding pad. Plus, the bag comes with two small collapsible silicone bowls that make it easy to feed your furry friend while on the go.
Made of heavy-duty polyester, whether you're heading to the park or taking a trip to the beach, BAGLHER is a great travel bag at a great price.
---
2. Tidify (Included First Aid Checklist)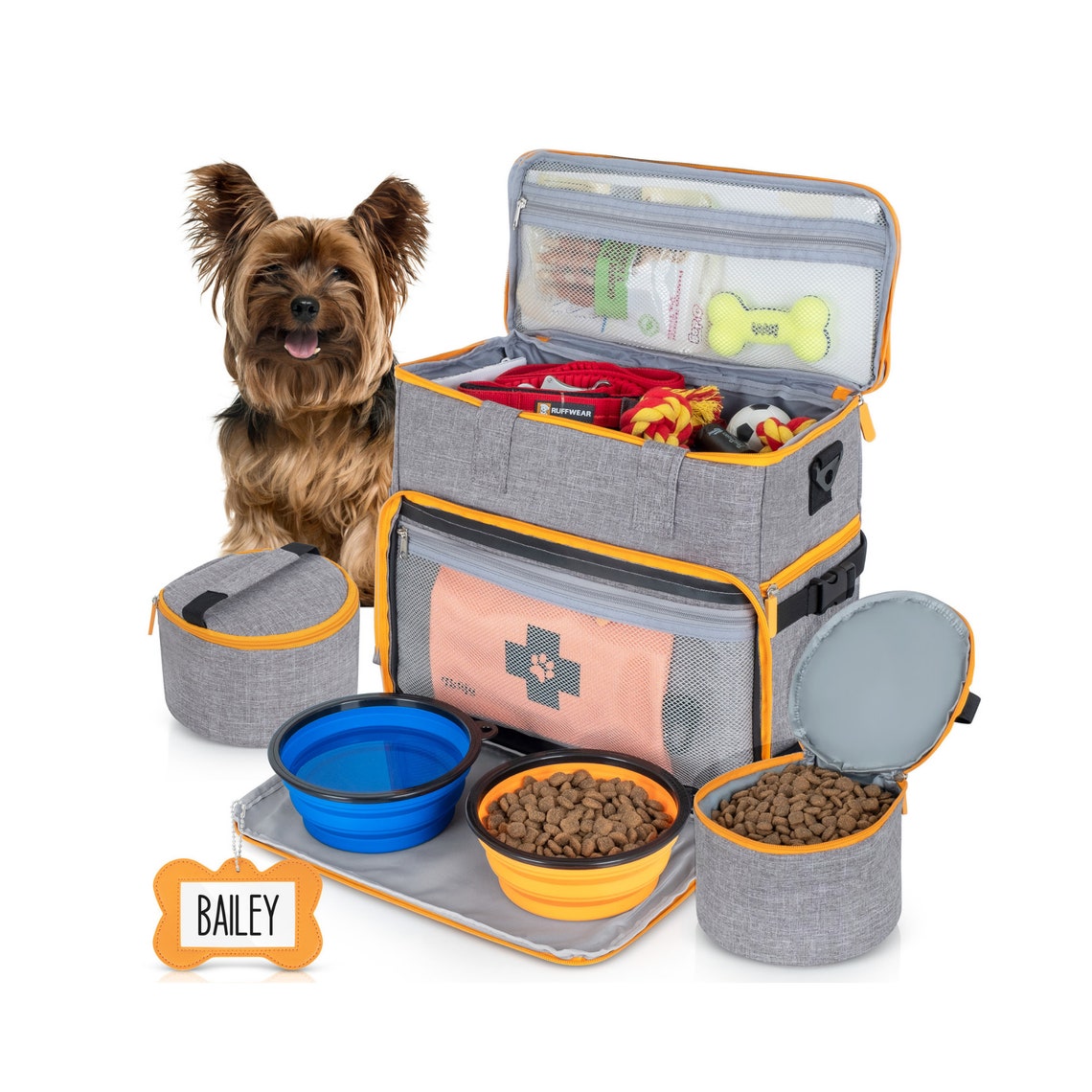 Features:
Airline Approved
Colors: 5 Available
Fabric: Melange 
Water-Resistant
Shoulder Strap: Adjustable
Pockets:

Front: Opens as Feeding Tray
Internal Mesh
Back Mesh Storage Pocket
Side Pocket

Food: 2 – Storage Containers
Bowls: 2 Collapsible
First Aid Bag and Checklist (not supplies)
Personalization: Available for Extra Cost
30-Day Return Policy
Free Shipping
Specs:
Dimensions: 6" W x 12.5" H x 8.5" L
Food Container Dimensions: 7" Diameter x 5" High
Video: Tidify Dog Travel Bag
Pros
First-Aid Checklist
Personalization Available (extra cost)
Water-Resistant
Cons
First Aid Is A Checklist not A Kit
A Few Words
The Tidify Dog Travel Bag is airline-approved, water-resistant, and features adjustable shoulder straps for added comfort. It comes equipped with a front opening that folds down for a feeding tray.
Also included are two collapsible bowls, as well as an internal mesh pocket and side pocket for extra storage. Plus, personalization is available at the Etsy store for an additional cost.
One thing to be aware of is the first aid mentioned is not a kit but a checklist. Not misleading just want to give you a heads up. Being a checklist, you still need to buy the items separately.
---
3. Mobile Dog Gear (Traditional Backpack Look)
Features:
Most Airlines Approve As Carry On
Colors: 3 Available
Material: Polyester
Food: 2 Containers – 15 cup capacity
Bowls: 2

5 Cup
Collapsible
Silicone

Placemat
Zippered Drop Bottom Compartment
Daisy Chain Elastic Bands
Pockets

Side Mesh Pocket
Side Zippered Pocket
Zippered Front Pocket
Waste Bag Pocket

Straps: Adjustable Padded Shoulder Strap
ID Luggage Tag
Specs:
Dimensions: 13″ L x 19″ H x 9″ W
Product Weight: 3.2 lbs
Pros
Airline Approved
Extra Storage In Bottom
Placemat
Cons
A Few Reports of Zipper Problems
A Few Words
Looking for the perfect dog travel bag compliant with airline regulations? Look no further than Mobile Dog Gear's dog travel bag. This bag comes in three colors and is made from durable polyester material.
It also comes equipped with two food containers, as well as collapsible bowls and a placemat. Its several pockets and compartments make it the perfect travel companion for your furry friend.
Plus, the adjustable straps make it easy to carry. With an ID luggage tag and a waste bag dispenser pocket, this is the perfect dog travel bag for those who want to ensure their pet is comfortable during their travels.
---
4. Modoker (Best Return Policy)
Features:
Airline Approved
Colors: 7 Available
Material: Water Repellent Oxford Outer Material With PVC Backing
Inner Lining: Leak Proof
Shoulder Straps: Padded and Adjustable
Pockets:

1 Side Pouch
1 Side Zippered
2 Front Pockets
1 Back Mesh

Food Containers: 2
Bowls:

2 Silicone
Dishwasher Safe

Placemat
Specs:
Dimensions: 16"(L)*14"(H)*8"(W)
Product Weight: 2.6 lbs
Pros
Water Repellent
Leak Proof Inner Lining
Dishwasher Safe Bowls
Cons
Scoop In Picture Not Included
A Few Words
Are you looking for a stylish and sturdy dog travel bag? Look no further than Modoker. This dog travel bag is made of water repellent oxford outer material with PVC backing, making it resistant to liquids and staining.
It also features a leak-proof inner lining, padded shoulder straps, and various pockets to store all of your dog's needs.
Plus, the dishwasher-safe collapsible bowls and placemat are a perfect addition for feeding your dog on the go.
---
5. Mattie&Me (Best Tote Bag With Personalization)
Features:
Colors: 7 Available
Material:  600 Denier Polyester
Personalization
Zipper Closure On Top
Back Panel Is Black
Pockets:

2 Side Mesh
Front Pocket With Pen Loop

Gusseted Bottom
No Returns
Specs:
Dimensions: 20″(L) 14″ (H) 4″ (W)
Handles: 29.5″
Pros
Variety of Colors
Embroidered Personalization
Gusseted Bottom
Cons
No Returns
No Bowls Or Containers Included
A Few Words
Are you looking for a dog travel bag that is not only functional but a tote bag for dog stuff that is really cute. ? You need to look no further than this MattieandMeToo travel bag.
This stylish bag comes in seven colors, features a 600 denier polyester fabric for durability, is embroidered with your pet's name, and has a top zip closure and a front pocket with a pen loop. The pockets on both sides are mesh-lined.
Be aware that no bowls or food containers are included.
The bottom of the bag is gusseted, and the bag is machine washable.
There is a no-return policy, so be sure this is the travel bag that fits your needs.
---
6. ModPawsUS (Best Customizable)
Features:
Customizable
Personalization
Colors: 10 Available
Material: Polyester
Compartments: 4

1 Main Zip Pocket
1 Zip Front Pocket
Water Bottle Holder Pocket (Side)
Internal Padded Divider

Laptop Storage Pouch
Write On Label
No Returns
Care Instructions:
Pretreat visible stains with stain remover.
Mix warm water with laundry detergent and clean the bag with a terry washcloth or soft bristle brush.
Let the bag air dry.
Specs:
Dimensions: 11.81″ (L) 5.12″ (W) 18.11″ (H)
Product Weight: 1.3 lbs
Pros
Customize With Up To 3 Pictures
Name Personalization
Laptop Storage
Cons
No Returns
Hand Washable
No Bowls Or Containers Included
A Few Words
The ModPawsUS dog travel bag is perfect for taking your pet's accessories with you on your travels or as a dog overnight bag. The bag is made from polyester, features four compartments, a zip front pocket, and a water bottle pocket, and can be personalized with up to 3 pictures.
The bag is also comfortable to carry, thanks to its padded shoulder straps and padded back panel.
Be aware that no bowls or food storage containers are included.
But maybe the best part is this travel bag can be customized with up to 3 pet pictures. Also, their name can be personalized.
Because of the customization, there are no returns.
---
FAQs About Dog Travel Bags
What should be in a dog travel bag?
There is no one-size-fits-all answer to this question, as the contents of a dog travel bag will vary depending on the size and type of dog you are traveling with.
However, some common items that may be included in a good quality dog travel bag include food and water bowls, a leash, toys, a blanket or mat for comfort, and identification tags for your pet.
How much does it cost to buy a good-quality dog travel bag?
When buying a good quality dog travel bag, prices can vary from $40 to $100 and more depending on the material and accessories.
The bag should be durable and easy to clean. Additionally, it should have compartments for dog food/water, toys, and other necessary items.
And finally, ensure that the straps are comfortable enough not to strain your neck while carrying the bag.
There are many great options available on Amazon or elsewhere online if you're looking for a good quality travel bag for your furry friend.
Just be sure to read dog travel bag reviews on different bags before purchasing and choose one that best suits your needs.
This May Be Of Interest To You To Read: The Best Double Pet Stroller
---
POPULAR ARTICLES
Conclusion
So this concludes our list of some of the best Dog Travel Bags on the market today. Make sure to read reviews to find out what other dog owners have found helpful before making your purchase.
With all products, features can change, so be sure the qualities that attract you to the product are still the same before purchasing.
Thanks for reading, and we hope you found this blog helpful. And don't forget to pack your pup's favorite kibble and water bottle in their bag!
What tips do you have about traveling with pets? Please comment below.